Blue Dream Strains Cannabis Seeds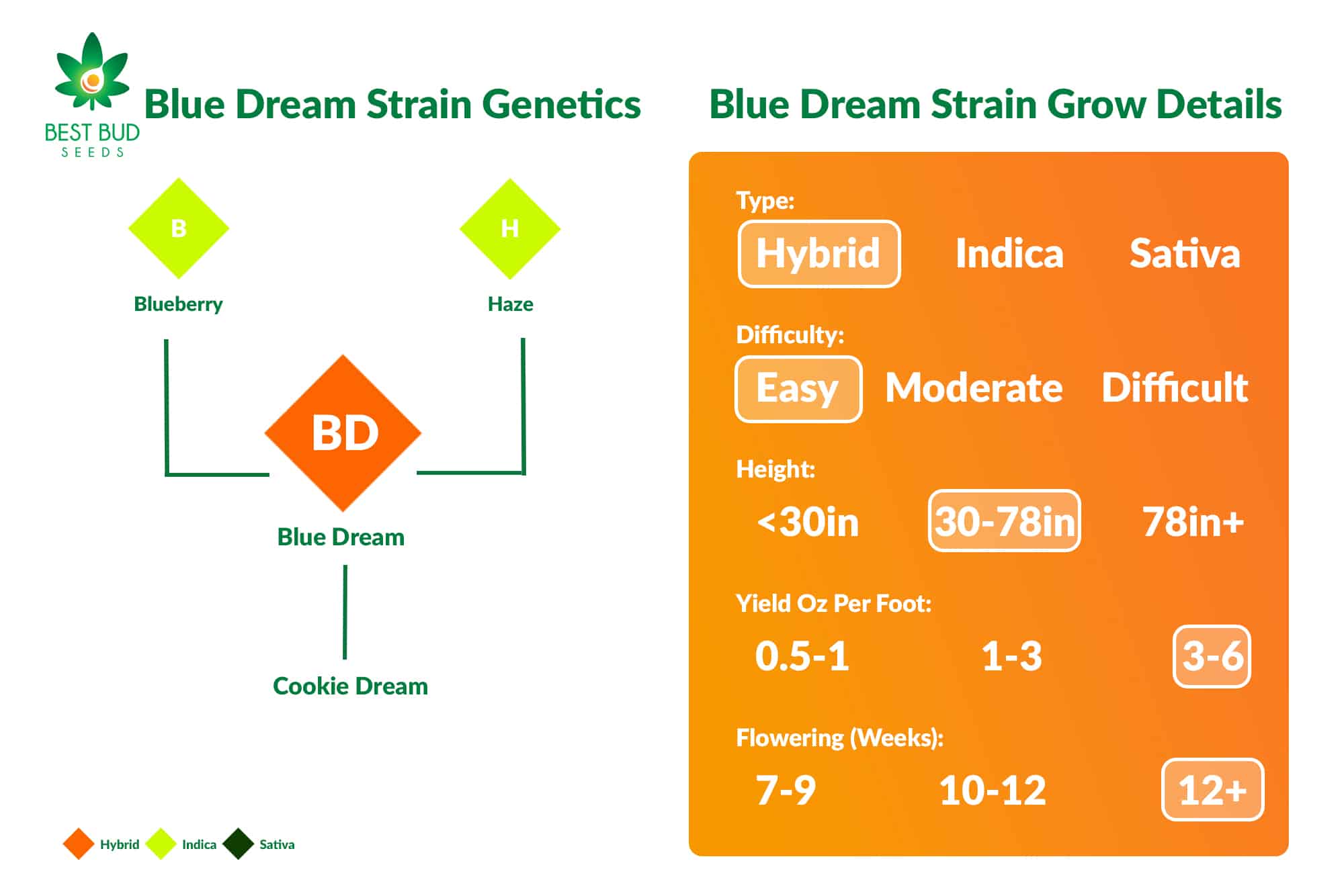 Blue Dream is a Sativa-dominant strain shrouded in mystery of its origins and potency. It is not just dreamy because of its magnificent flavor and buzzy head high, but because its history has essentially been wiped from the books with many believing its origins must be a dream. Blue Dream first made a name for itself in the medical community, and its origins were said to be in the Santa Cruz, CA area at the time. Eventually, Blue Dream caught everyone's attention when breeder DJ Short made it rise to the popularity you see today.
With a relatively high THC range that averages at a low of 17% and a high of 24%, Blue Dream bud has more than just good looks and flavor to bring to the table. The CBD and CBN levels reach 2% and 1% making this an extremely beneficial strain for consumers who experience physical ailments that are painful. The delicious flavors of blueberry and sugar are long lasting and stay in the air and on your tongue long after the smoke has gone away. Blue Dream buds are long and bushy, with deep blue/purple hues, amber and blue hairs, and a plethora of milky white trichomes.
Blue Dream is actually very easy to grow, and is a breeze of a plant and will make the new or novice grower amazed at how easy it was to grow good bud at home. The flowering time is around 10 weeks for indoor systems or late September to early October for outdoor grow ops. The yield is high with around 21 ounces per plant, and it will be best to monitor the height of Blue Dream, as you'll want to top early and grow upwards of five feet.
Blue Dream's head high is all the best parts of its parentage wrapped neatly into a flavor-packed, beautifully balanced package. It begins with a cerebral rush, bringing with it motivation and heightened focus. Best Bud Seeds can't recommend Blue Dream enough.
Blue Dream Strains Marijuana Seeds for Sale Online