Headband Strains Cannabis Seeds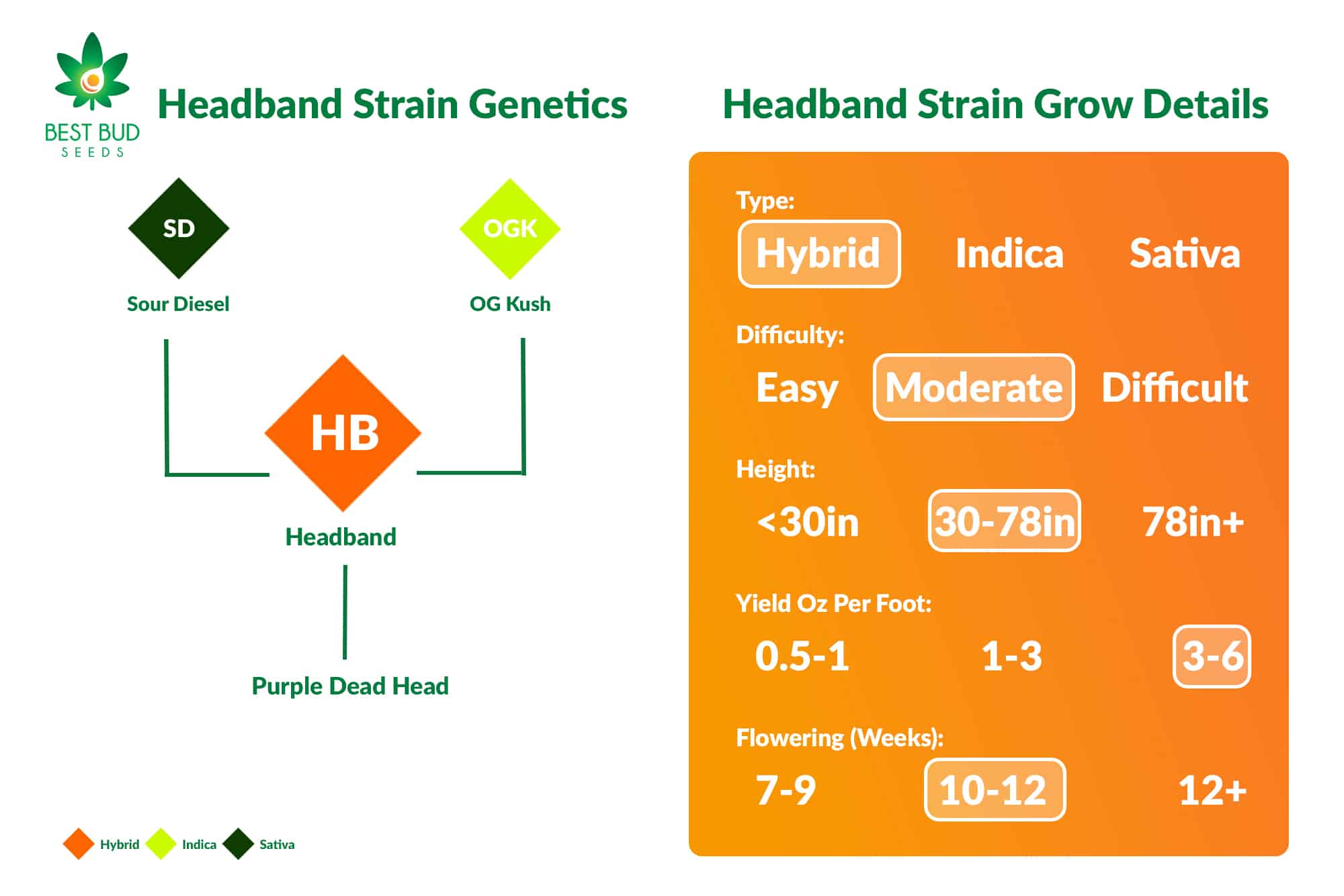 Headband is an iconic Indica based hybrid that draws attention to not only the funny name, but its amazing effects. Although the name Headband might make you think up images of hippies wearing headbands at Woodstock in the 60's, it actually refers to the sensation of pressure that builds up around the consumers temples as this strain's THC dilates blood vessels in the face.
Headband is a cross between staple strains OG Kush, Master Kush, and Sour Diesel. All of these heavy hitting High THC strains attribute to Headband being a knockout strain. It has been measured at between 20% and an impressive 27% THC in some cases.
Headband is a great strain for outdoor grows, but Headband can also be as easily grown indoors: its plants have a characteristic Indica shape, with a shorter than average height and a bushy appearance (making it great for growers with a small indoor space to grow). In order to let the maximum amount of light reach low-growing flowering nodes, cannabis growers should attempt to trim any fan leaves that could be in the way, but that may be unlikely since this strain doesn't produce a whole lot of fan leaves to begin with. Indoors, Headband flowers within 10 to 11 weeks. It produces higher than average yields in most environments. Finally, because it is so strong in scent, growers of Headband may want to take some extra caution with plants as it can be very skunky.
Headband is a potent strain that will impress cannabis novices and cannoisseurs alike. Providing the best of what Indicas have to offer, it's a gateway to relaxation, mild creative ability, and an overall trippy good time. Best Bud Seeds recommends Headband for the grower who loves a good relaxing smoke along with a classic bud flavor.
Headband Strains Marijuana Seeds for Sale Online