Chemdawg Strains Cannabis Seeds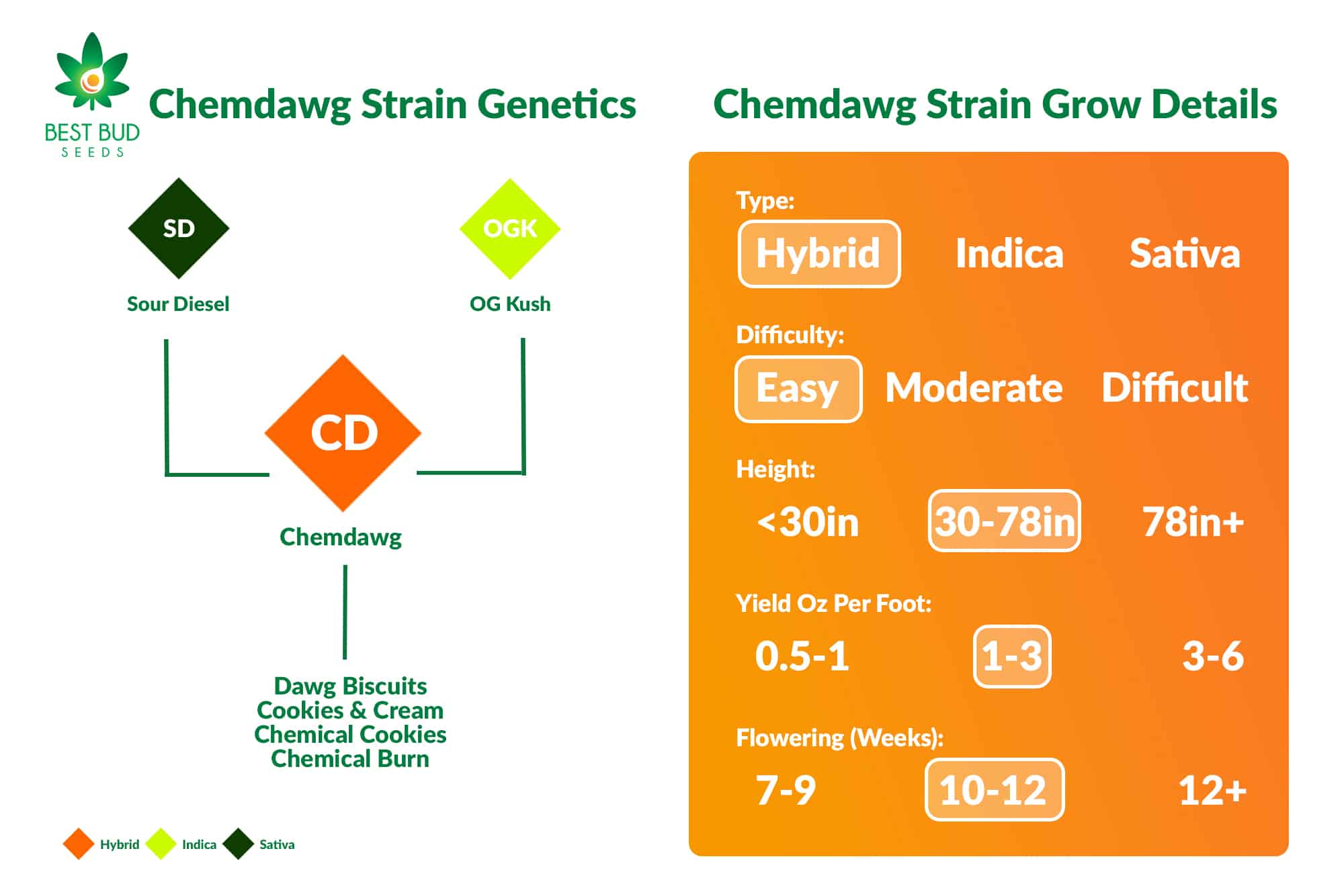 Chemdawg is an iconic strain with a mysterious genetic history. While it is thought to be crossed from Thai and Nepalese Sativa landraces by U.S. breeders, many have tried to claim the genius behind Chemdawg. Regardless of its beginnings, Chemdawg has become a staple in the U.S. cannabis market for its unique flavor and upbeat, energetic high. It has also been used to crossbreed several popular and successful strains.
Chemdawg's THC content has been measured at between 15% and 20%, but Best Bud Seeds provides Chemdawg hybrids that surpass that THC percentage. Chemdawg is known to have medium-sized buds that look slightly different from those of hybrid or pure Indica lineage. Due to the combination of the loose structure of their buds and resinous texture, buds of Chemdawg are particularly difficult to break up by hand, and consumers preparing flowers smoking will have an easier time with a grinder. The extremely sticky flowers are threaded through with red to orange pistils. Chemdawg has a smell reminiscent of diesel fuel like its supposed child Sour Diesel. The pungent flowers also give off odors of earthy musk and some sort of pine.
It is more often grown indoors than outdoors, as it requires a good amount of tending to resist mold and mildew. Growing indoors takes patience and meticulous attention to detail, as Chemdawg plants often grow over 5 feet tall, and as such, growers should bend and prune them early in the vegetative stage in order to keep them at a manageable height. Chemdawg flowers within 9 to 10 weeks when grown indoors and typically offer a very high yield: growers can expect between 65 and 75 grams, or 2.3 and 2.6 ounces, per square footage of plant. Best Bud Seeds recommends growing Chemdawg to all Sativa lovers and lovers of sticky bud. 
Chemdawg Strains Marijuana Seeds for Sale Online