GMO Cookies Strains Cannabis Seeds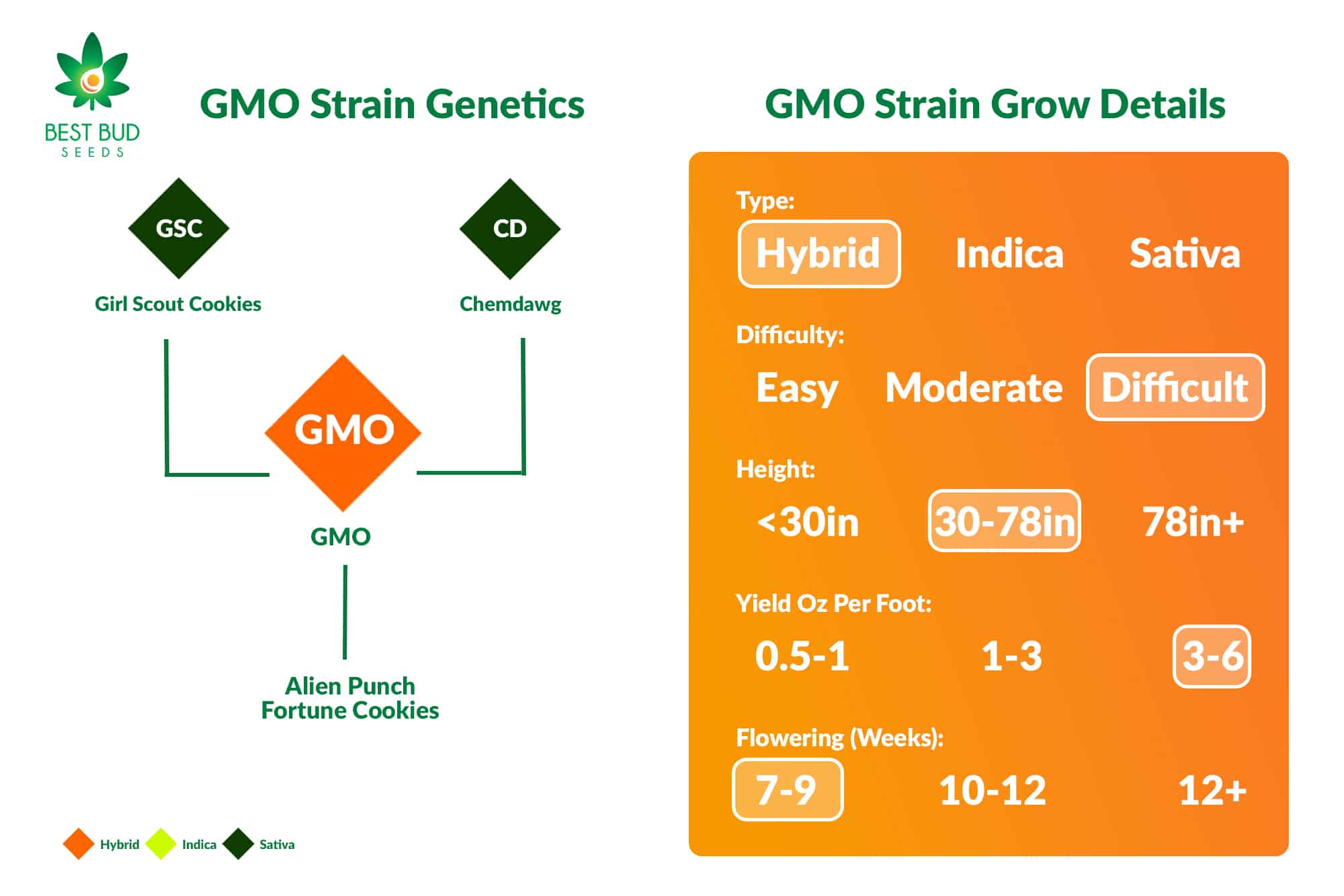 Mmm. GMO. Potent, skunky, garlicky. Garlicky? Yes. Actually, it's garlic flavor is why it's called GMO. GMO is often referred to as Garlic Cookies. So why does everyone like this strain then? Simple, GMO is a fantastically bred Indica-dominant hybrid that contains traces of Girl Scout Cookies and Chemdawg.
This strain is not for the consumer that wants to take the edge off, its for the consumer that wants to be cozy on the couch for the rest of the night. While GMO doesn't taste like a dessert strain, it's definitely a nighttime-only strain hybrid at a whopping 33% THC. As a near 100 percent Indica, GMO hits consumers hard with a hazy body-heavy high.
GMO grows in foxtail-like colas, with slender buds that grow densely, with long bodies shaped like peppers you'd find in your moms garden. The almost wicked looking, dark green and purple colas give off smelly visions of the outdoors, chemical pine, and diesel. Its primary terpenes are Caryophyllene and Myrcene, which deliver not only the smell but the spicy garlic kick as well. This strain isn't for the novice cannabis grower unfortunately. Flowering time is an average of 9-10 weeks, but it requires a ton of attention as its humidity levels are to be constantly monitored. GMO has a tendency of developing mold and bud rot quite easily, so its much safer to grow GMO indoors in a temperature controlled environment. All of this hard work doesn't go to waste though, as GMO averages a yield of 14-20 OZ per plant indoors. Because GMO is still a hybrid after all, it tends to grow large and bushy like both a tall Sativa and bushy Indica.
This strain is for the grower that has a lot of room to grow indoors. Are you ready to grow GMO? 
GMO Cookies Strains Marijuana Seeds for Sale Online