South Dakota Cannabis Seeds - Marijuana Seeds For Sale in South Dakota
How to pick the best cannabis seeds for your South Dakota marijuana grow
South Dakota Cannabis Seed Guide Table of Contents
Please Note: Best Bud Seeds is NOT a legal advisor. Information contained in this website is intended as general introductory information only. The information contained on this website is not legal advice. It should not be construed as legal advice and should not be relied upon as such.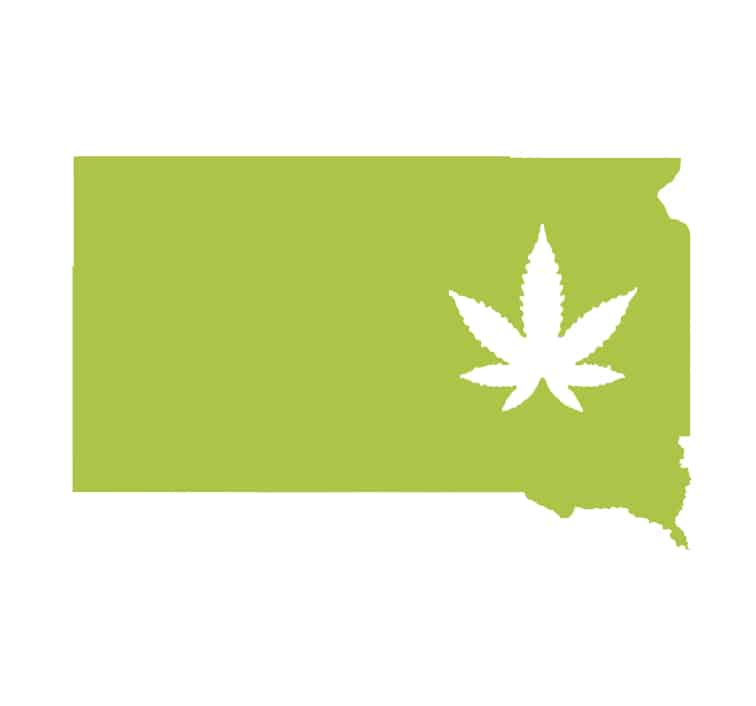 WHERE CAN I BUY CANNABIS SEEDS IN SOUTH DAKOTA?
Best Bud Seeds sells marijuana and cannabis seeds online as an adult novelty in South Dakota to adult recreational and medical users that are looking to cultivate. Finding premium seeds in South Dakota can be a daunting task but buying from Best Bud Seeds eliminates the need for taking extra time out of your day for searching, and you are guaranteed high-quality seeds on every order. Consider buying your cannabis seeds online from our trusted resources at Best Bud Seeds.
HOW TO BUY CANNABIS SEEDS ONLINE IN SOUTH DAKOTA?
At Best Bud Seeds, each order is cared for from start to finish. Our hand selected seeds are carefully packaged to your exact order specifications for a superior product. Whether you order High THC Cannabis Seeds, Medical or High CBD Cannabis Seeds, Indica Cannabis Seeds, Sativa Cannabis Seeds, Hybrid Cannabis Seeds, or our Best Bud Seeds Exclusive Cross Strain Cannabis Seeds, our seeds are always top-notch quality with the most variety in an online marijuana seed bank. Our staff is always there to answer your questions about our seeds and the growing process for you, as well as being available to answer any questions pertaining to your state. We are a high-end cannabis seed bank, but that doesn't mean your pockets will be gouged. We believe in fair pricing to ensure you get the best deal on marijuana seeds in South Dakota and online.
Our checkout process makes it easy to purchase marijuana seeds online in South Dakota. Your checkout information will remain anonymous for your privacy and security. Our trusted and secured checkout process eliminates the worry of legitimacy when buying cannabis seeds online. At Best Bud Seeds, we know how important it is to make sure your seeds get delivered to your door lightning fast. Your orders, no matter the size, are guaranteed to be delivered in one week or less (US residents only, other country ship times may vary).
Choose Best Bud Seeds for your next marijuana seed order.
BEST CANNABIS SEEDS FOR GROWING IN SOUTH DAKOTA
Best Bud Seeds has done the vital research for you, so that you know exactly which cannabis strains do the best in South Dakota. Use our Grow Advice Blog articles to answer any questions about cultivating marijuana at home. This will help make choosing marijuana seeds easier for you, but if you still have any questions Contact Us.
IS IT LEGAL TO BUY MARIJUANA SEEDS ONLINE IN SOUTH DAKOTA? HOW DO I ORDER CANNABIS SEEDS ONLINE IN SOUTH DAKOTA?
It is legal to buy cannabis seeds regardless of legalities in South Dakota as an adult novelty item, but it is also legal for medical marijuana patients to grow cannabis seeds at home.
Ordering your marijuana seeds from Best Bud Seeds means you are guaranteed the highest germination production in the whole country. We promise that no fewer than 98% of our seeds will germinate, and if you happen to get a bad batch, we will replace any additional duds for your ease of mind as the grower. Our feminized cannabis seeds are fully feminized for your peace of mind as the grower, so you don't have to worry about pesky male plants ruining your crops. View our Germination Guide page for more information.
Our fast shipping ensures that your seeds will get to you in a timely manner so that you can start your marijuana crop fast. Additionally, fast shipping also means less stress on your cannabis seeds for optimal germination. View our Shipping Policy page for more information on shipping speed and mail couriers.
If you are not satisfied with the quality of our products, view our Return, Refund & Exchange Policy page for further information on how we can do right by you. Other online marijuana seed banks tend to beat around the bush about the care and quality of your seeds. We don't think it's fair to have a "what you see is what you get" attitude when it comes to buying cannabis seeds. At Best Bud Seeds, we are dedicated to making sure you are satisfied with our cannabis seeds and customer service.
MEDICAL MARIJUANA SEEDS SOUTH DAKOTA - BUY MEDICAL CANNABIS SEEDS IN SOUTH DAKOTA ONLINE
Looking for high-quality Medical Marijuana Seeds in South Dakota? Best Buds Seeds is your trusted source. Every cannabis strain in our Medical Seeds category is medical grade and was carefully engineered with the right genetics for medicinal purposes in mind. Our massive selection of High CBD, CBG, and CBN cannabis seeds is the largest online medical marijuana seed bank by far. Whether you're looking for a mix of both CBD and THC cannabis seeds for pain relief, or medical cannabis seeds without psychoactive properties, Best Bud Seeds has a wide variety of medical marijuana seeds for your choosing.
WHAT TYPES OF STRAINS ARE EASIEST TO GROW IN SOUTH DAKOTA?
This answer might be confusing to some, since there is a big difference between availability and growability in marijuana strains in South Dakota. Some seeds that may be available in South Dakota, might not be the best place to grow them per say.
While it doesn't matter whether your cannabis seeds will be producing Indica or Sativa flower, the attributes to each strain is what is important in South Dakota. At Best Bud Seeds, we've taken into consideration climate, temperature, bug-resistance, wind-resistance, and timing.
Best Bud Seeds recommends strains that can grow well in South Dakota's cold northern climates such as Purple Deadhead.
TIPS & GUIDES FOR GROWING CANNABIS IN SOUTH DAKOTA
Best Bud Seeds has compiled a list of marijuana growing advice resources for you to help take some of the work off of your plate, so that you can have the smoothest grow possible. Here are our favorite guides for growing cannabis plants in South Dakota:
How to Grow Marijuana Outdoors
Growing Marijuana for Beginners
WHAT TYPE OF CANNABIS STRAINS GROW BEST IN SOUTH DAKOTA'S CLIMATE?
South Dakota is known to be a very cold state. Any strain that is cold and frost resistant will work just fine.
IS IT BETTER TO GROW MARIJUANA INDOORS OR OUTDOORS IN SOUTH DAKOTA?
Best Bud Seeds recommends growing outdoors in South Dakota starting in early spring. We also recommend auto-flowering strains for shorter harvest time.
If you have the capability to grow medical marijuana in South Dakota, check out our Best Bud Seeds Categories.
HISTORY OF MARIJUANA AND CANNABIS IN SOUTH DAKOTA
The November 2020 election made South Dakota the first state in the nation to legalize medical marijuana and adult-use cannabis in the same year.
Constitutional Amendment A, the Marijuana Legalization Initiative legalized recreational cannabis in South Dakota for adults 21 and over. It also required the South Dakota State Legislature to pass laws providing for the sale of hemp and setting up a medical marijuana program by April 1, 2022. Under the initiative, marijuana sales are taxed at a rate of 15%, with a portion allocated to funding state public schools. Starting July 1, 2021, adults 21 and older were supposed to be able to possess 1 ounce of cannabis with no more than 8 grams of that being concentrate. They were also going to be able to grow three plants and possess the harvest if there were no retailers in their area. But shortly after the votes were counted, law enforcement officials acting at the behest of Gov. Kristi Noem challenged the law in court. The state's supreme court has heard arguments but not ruled. Meanwhile, South Dakotans for Better Marijuana Laws, the same group that got both initiatives on the ballot the first time, is gathering signatures to place a similar measure on the ballot in 2022.
South Dakota voters also passed Initiated Measure 26, which legalized the medical use of marijuana as well as the sale, delivery, manufacturing, and cultivation of cannabis for people with debilitating conditions. Registered patients can possess up to 3 ounces of cannabis and six plants. The legislation took effect July 21, 2021.
SOUTH DAKOTA CANNABIS/MARIJUANA GROW LAWS
Can you legally grow cannabis in this state?
Registered patients can possess up to 3 ounces of cannabis and six plants in South Dakota.
Is it medical only, or recreational?
Marijuana consumption is legal for registered medical patients
What is the limit on the number of plants you can grow for medical vs. recreational in South Dakota?
Six plants.
What security requirements exist? Does the grow location need to be locked? Can it be indoor or outdoor?
No data on cultivation requirements in South Dakota.
Are there any proposed changes to these laws that may take effect in the future?
No data on South Dakota cultivation laws yet.
MARIJUANA SEED DELIVERY IN SOUTH DAKOTA
Best Bud Seeds can still ship cannabis seeds to South Dakota as an adult novelty item, but we do not encourage medical or recreational marijuana cultivation until it has been legalized in South Dakota. We recommend looking at our Legal Disclaimer. We ship cannabis seeds to these following cities to name a few:
Sioux Falls
Rapid City
Pierre
Sturgis
Deadwood
Aberdeen
Spearfish
Mitchell
Yankton
Vermillion
Madison
Best Bud Seeds cannabis seed bank is guaranteed to deliver your order within 5-7 business days to the state of South Dakota. View our Cannabis Seed Collection and get started today.

Information about South Dakota updated on 7/18/22.
Not Sure Which Marijuana Seeds Are Best for Growing In Your Climate, State or Region?
Browse our geographic guide to cannabis seeds to find the best marijuana seeds to purchase by state for your grow location and environment.